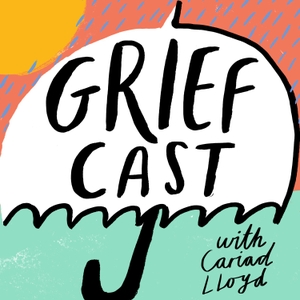 #99 Griefcast Live at Latitude Festival with Tom Allen, Tez Ilyas + Vanessa Hammick
10.09.2019 - By Griefcast
Cariad talks to stand-up comedians Tom Allen (Great British Bake Off Extra Slice, You're Fired), Tez Ilyas (Tez Talks, Tez O'Clock Show, Man like Mobeen) + Vanessa Hammick (The Golden Path) in this special live episode as part of the Latitude Festival, recorded in July 2019. As ever they talk grief, Sondheim + Victorian funerals.
You can follow Tom on twitter @tomallencomedy, Tez on @tezilyas and Vanessa on @ammick. You can follow the Griefcast on twitter and instagram @thegriefcast.
Griefcast won Gold (always believe in your soul) in Best Entertainment, Best Interview + also Podcast of the Year 2018 at the British Podcast Awards and Best Podcast at the ARIA's. It is hosted by Cariad Lloyd, edited by Kate Holland, recorded at Whistledown Studios and the music is provided by The Glue Ensemble. And remember, you are not alone Support this show http://supporter.acast.com/griefcast. See acast.com/privacy for privacy and opt-out information.