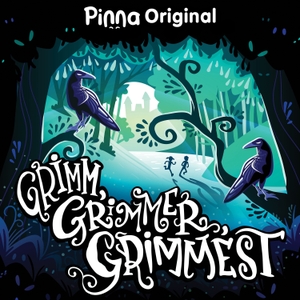 Grimm, Grimmer, Grimmest
By Pinna
What's Grimm, Grimmer, Grimmest about?
Pinna presents Season 1 of GRIMM, GRIMMER, GRIMMEST, a wildly enchanting podcast series from Pinna and Adam Gidwitz, bestselling author of A TALE DARK AND GRIMM. Every episode features a Grimm fairy tale retold with a fresh and surprising twist, punctuated by hilarious commentary from a live audience of witty grade-schoolers. Each story weaves in and out of a weird and whimsical world full of curious creatures and mischievous foes, and a classroom of kids who anticipate plot twists and question the logic of these very Grimm tales.
Starting October 21st, this ten-episode series will roll out one new show each day leading up to Halloween.
About Pinna: Pinna is an ad-free audio entertainment app for kids ages 3–8, featuring Peabody-winning original series, interactive game shows, irresistible audiobooks, and popular children's podcasts. Pinna's programs include gripping adventures, enchanting bedtime stories, lively science and history shows, and so much more! Download Pinna in the Apple App Store.