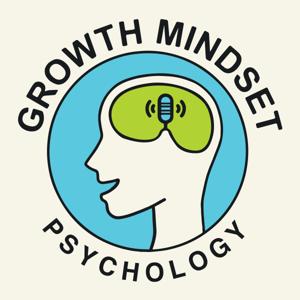 Growth Mindset: Psychology of self-improvement
By Growth Mindset Psychology
What's Growth Mindset: Psychology of self-improvement about?
Welcome to the Growth Mindset, the psychology podcast that is transforming lives. Learn to stop accepting the excuses and fixed mindset talk your brain generates. Embrace an honest attitude toward self-improvement and success by building a growth mindset.
With over 6 million downloads and counting, this is your hub for deep dives into mindsets and the science of positive psychology and self-improvement.
Each episode brings you world-renowned experts, transformative stories, and groundbreaking insights designed to empower you with the tools to shift your perspective. Our focus is on resilience, optimism, gratitude, self-belief, and the incredible power of mental flexibility that Carol Dweck discovered within the growth mindset.
A growth mindset teaches us that our skills are not fixed. You can improve and grow through hard work, perseverance, and a rock-solid attitude.
Host Sam Harris has launched several businesses, traveled the world, and nearly died a few times, all in the spirit of curiosity and adventure. He's even been to North Korea, hitch-hiked across Kazakhstan, and finished an ultramarathon with a broken leg. He brings his insatiable appetite for learning, self-improvement, growth, and of course mindset to the podcast.
If you enjoy thinkers such as Andrew Huberman, Tim Ferriss, Brene Brown, or Lex Fridman you'll love this show.
The growth mindset podcast is the place for people with big dreams who intend to achieve them.
Become a member at https://plus.acast.com/s/growth-mindset-podcast.
Hosted on Acast. See acast.com/privacy for more information.