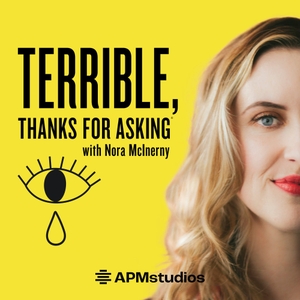 This episode features conversations with people doing the best they can in difficult circumstances. Like Dr. Lucy Kalanithi, whose husband Dr. Paul Kalanithi was a notable and rising brain surgeon who wrote When Breath Becomes Air, a bestselling memoir about his fatal battle with cancer. And comedian Amber Tozer, who tells a funny and poignant story about walking in on her mother's wedding… on Christmas Day. We will also talk with some of the women of the Hot Young Widows Club on their hopes and dreams for the upcoming year. Plus, stories of people's worst Holidays ever. 
This year, we're bringing our Happyish Holidays episode to you in a new way...a live video stream brought to you by our sponsor Shutterfly. RSVP at HappyishHolidays.com
Our twice-monthly newsletter features behind-the-scenes content, previews of upcoming episodes and more. Sign up.
When you shop our Bookshop.org store, you support the author, independent bookstores AND our show! Shop here.
Shop for your favorite TTFA gear at TTFAmerch.com
Read the transcript for this episode here.
You can catch up with TTFA on Instagram, Twitter and Facebook using @ttfapodcast. Nora's Instagram is @noraborealis.
TTFA is public media. Which means we are supported by you. You can join us with a contribution at ttfa.org/donate
Go to HappyishHolidays.com to RSVP to the livestream event!
And check out our sponsors this week:
Shutterfly: shutterfly.com
Help A Human Out: helpahumanout.co
Still Kickin': stillkickin.co