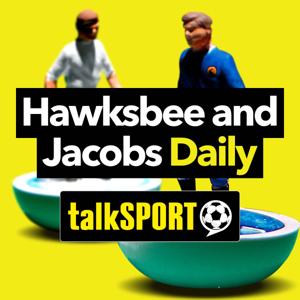 Hawksbee & Jacobs Daily
By talkSPORT
What's Hawksbee & Jacobs Daily about?
Paul Hawksbee and Andy Jacobs bring you interviews, comment and terrible impressions!
If you want to hear the sound of two men laughing at the ridiculousness of sport this is the only place to be!
Hit follow on your favourite podcast app and be sure never to miss an episode.
Love Hawksbee and Jacobs? Listeners that use Apple Podcasts can also subscribe to talkSPORT+ for ad-free listening and bonus episodes of Clips of the Week - which means more banter with H&J, exclusive clip compilations and more of what you love from talkSPORT.
Find more from talkSPORT at talkSPORT.com. Hosted on Acast. See acast.com/privacy for more information.