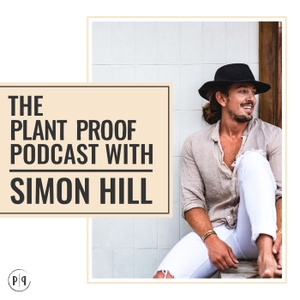 In Episode 91 it's you and me again for another Solo Episode of the Plant Proof Podcast. As usual this episode, focussed on weight loss, is about clearing confusion, breaking down the science and giving you practical tips to walk away with that hopefully allow you to lead a healthier, more sustainable & happier lifestyle.
In this episode I cover:
•Fat shaming versus educating about reducing disease risk
•Social media and body image
•What factors control weight gain or weight loss?
•What dietary patterns are best for weight loss?
•Why ultra-processed foods may affect your results?
•Are high fat or low fat diets best for weight loss?
•Ketogenic diets and weight loss - a few things to consider
•Do carbohydrates promote weight gain?
•How does exercise affect weight loss?
•Is intermittent fasting useful for weight loss?
•How quickly should we lose weight?
•How to stay fuller for longer?
•Importance of adherence
•and much much more including plenty of what I hope are helpful tips
All in all friends this episode is not about obsessing over belly rolls or cellulite. My aim was to bring you the science minus any fads, quick fixes or any other strategies that get you reaching for your wallet - I simply want you to understand what factors affect your body weight so you can be empowered to take control of your health. I do need to acknowledge that there is an element of privilege associated with being able to implement the information I am sharing. I understand our food system is set up in a way that makes it hard to lose weight - it's called the obesogenic environment after all. Cheap, convenient foods are usually the most unhealthiest. With that said, you can only do the best in your circumstances and by no means do I want you to feel any less about yourself if you are simply doing your best and run off your feet with multiple kids, lots of bills etc, I totally get it - it's the thought and effort that matters most.
Resources/References:
Kevin Hall's study on Ultra-processed foods versus unprocessed
Low Fat vs High fat diets in metabolic ward setting - a systematic review of 32 controlled feeding studies
Plant Proof healthy plant based food pyramid

Hope you enjoy the episode friends.
Want to support the show?
If you are enjoying the Plant Proof podcast a great way to support the show is by leaving a review on the Apple podcast app. It only takes a few minutes and helps more people find the episodes.
Simon Hill, Nutritionist, Sports Physiotherapist
Creator of Plantproof.com and host of the Plant Proof Podcast
Author of The Proof is in the Plants
Connect with me on Instagram and Twitter
Download my two week meal plan