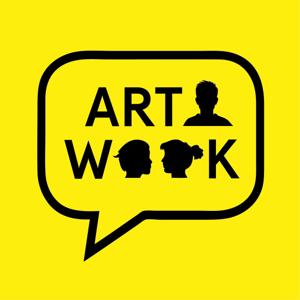 Episode103 - Hedley Roberts -Uk artist and academic - so insightful
03.29.2022 - By Art Wank
Hedley Roberts is an artist from the Uk - he is based in Margate in Kent. His first introduction to art was an encyclopaedia on art that his parents bought him when he was 10 years old. 
We had such a fabulous chat with him about what being an artist is and how its evolved over time.
He simply states that you need
Time, Space and a network of people.
Hedley says find the activity that takes you back to core, a safe place it maybe drawing or reading, taking photographs, writing in a note book, scrapbooks  - as you will have bumps in the road - find the thing that is unchallengeable and then you can use this when you hit those bumps.
He is an artist who has been working for many years. He is predominantly interested in painting although he studied printmaking - he is an academic who has studied for a very long time, he first went to art school at 15 years old and did a degree at Central Saint Martins with the artist Helen Chadwick, and also attended the Royal College of Art and ended up lecturing after his masters at 23 years old.
You can find out more about Hedley on his website.
https://www.hedleyroberts.co.uk.
Hedley talks about what kind of artist do you want to be in the book Navigating the Art World which you can order from Delphian Gallery - see link below.
https://delphiangallery.com/artists/
The artist support pledge is a UK concept you can find out more about it here https://artistsupportpledge.com