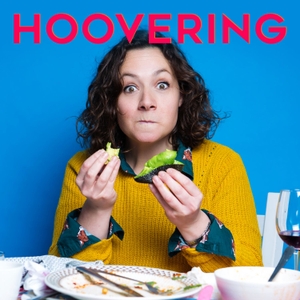 Hoovering - Episode 139: Arabella Weir
10.08.2020 - By Hoovering
Welcome to HOOVERING, the podcast about eating. Host, Jessica Fostekew (Guilty Feminist, Motherland) has a frank conversation with an interesting person about gobbling; guzzling; nibbling; scoffing; devouring and wolfing all up… or if you will, hoovering.
In this episode I'm talking to Fast Show legend Arabella Weir and we get nips deep into the horror of having a parent who is absolutely horrible to her about eating and her body. It's still a funny one though, somehow. And it's chilly now isn't it so we hoovered soup to get through it. 
Everything written below in CAPITALS is a link to the relevant webpage. 
Honourable Mentions/ Links
You can GET TICKETS HERE to see Arabella on tour early 2021 with 'Does my Mum loom big in this?' And she's ace on the old TWITTER as well. 
I'm on this great site called PATREON where I swap your money for ace podcast related stuff like totally exclusive content and guest recipes. It'll help me keep the podcast not just alive, but also thriving. Thanks so so so much if you've become a patron recently and/ or stuck with me since the beginning of this. 
Also - if you'd wanted to donate something as a one-off you can DO THAT HERE on the Acast Supporter page thing. 
MY TOUR IS RESCHEDULED - COME! 
The only reason I ever held a bucket at the end of my show is because it's literally what you are meant to do - when you're playing in a venue at the amazing, and unbeatably brilliant MONKEY BARREL venues at the fringe which I do, and intend to always do. So fucking there. 
She mentions comedians KIERAN HODGSON and STUART GOLDSMITH
We mention the following TV shows and films - STATH LETS FLATS, TENET, SUCCESSION and SHRILL 
We nod to excellent books THE FEMININE MYSTIQUE and THE FUCK IT DIET
And of course amazing photographer IDIL SUKAN Support this show http://supporter.acast.com/hoovering. See acast.com/privacy for privacy and opt-out information.