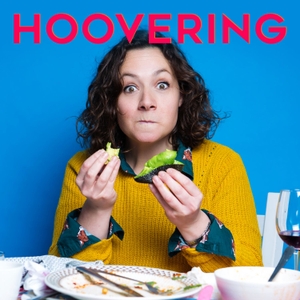 Hoovering - Episode 159: Christina O'Sullivan
02.26.2021 - By Hoovering
Welcome to HOOVERING, the podcast about eating. Host, Jessica Fostekew (Guilty Feminist, Motherland) has a frank conversation with an interesting person about gobbling; guzzling; nibbling; scoffing; devouring and wolfing all up… or if you will, hoovering.
This week I'm hoovering with food waste avoidance expert and representative of the amazing Feedback Organisation, Christina O'Sullivan. We gobble up lunch over the zooms in our respective homes, and fittingly we've both made lunches out of stuff that needed eating up. And I have to say we both did a pretty fit bloody job of it actually thanks. 
Everything written below in CAPITALS is a link to the relevant webpage. 
Honourable Mentions/ Links
Click here to DONATE TO FEEDBACK and to get your brains educated up on their amazing website. 
The supermarket scorecard report I referenced a lot is HERE
While you're at it why don't you follow them on TWITTER, INSTAGRAM and FACEBOOK
You can also follow CHRISTINA herself over on Twitter please too! 
I'm on this great site called PATREON where I swap your money for ace podcast related stuff like totally exclusive content and guest recipes. It'll help me keep the podcast not just alive, but also thriving. Thanks so so so much if you've become a patron recently and/ or stuck with me since the beginning of this. 
Also - if you'd wanted to donate something as a one-off you can DO THAT HERE on the Acast Supporter page thing. 
I got my big beautiful curly cucumber from ODDBOX and if you want one? And you want a massive £10 off your first box so it makes it just a few quid? Then USE THIS LINK MATE
MY TOUR IS RESCHEDULED - COME! 
Things we mentioned that you might be interested in from this podcast include…
I get my bread delivery from Brockley's lovely COOPERS BAKERY
We mentioned UK supermarkets WAITROSE and TESCO
And she mentioned brilliant lentil using magician chef RACHEL RODDY
As well as multi-award winning bean and pulse suppliers HODMEDODS Support this show http://supporter.acast.com/hoovering. See acast.com/privacy for privacy and opt-out information.