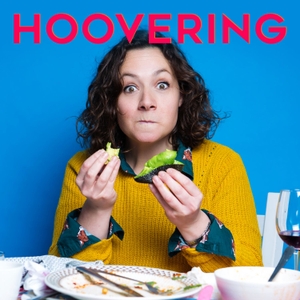 Hoovering - Episode 132: Hope Virgo
08.20.2020 - By Hoovering
Welcome to HOOVERING, the podcast about eating. Host, Jessica Fostekew (Guilty Feminist, Motherland) has a frank conversation with an interesting person about gobbling; guzzling; nibbling; scoffing; devouring and wolfing all up… or if you will, hoovering.
This week I'm talking to Hope Virgo, a mental health campaigner who is a recovering anorexic and the founder of the amazing #dumpthescales campaign currently raging alongside the incredibly important #curbthecount - out hoovering was a full on one, as you can imagine, in light of how incredibly dangerous elements of the governments health campaign are, for everyone and especially for people with eating disorders. 
Everything written below in CAPITALS is a link to the relevant webpage. 
Honourable Mentions/ Links
Please please please follow HOPE VIRGO and support her crazily important campaigns. 
If you're effected by anything in that episode or indeed keen to find somewhere to financially support services for people with eating disorders - there's an incredible charity called BEAT - check them out. 
I'm on this great site called PATREON where I swap your money for ace podcast related stuff like totally exclusive content and guest recipes. It'll help me keep the podcast not just alive, but also thriving. Thanks so so so much if you've become a patron recently and/ or stuck with me since the beginning of this. 
Also - if you'd wanted to donate something as a one-off you can DO THAT HERE on the Acast Supporter page thing. 
If you've never heard of a CRUNCHIE BAR it's that and these are the beautiful giant ASDA SNACK A JACKS I meant 
If you want a tenner off a first Oddbox then CLICK THIS LINK Support this show http://supporter.acast.com/hoovering. See acast.com/privacy for privacy and opt-out information.