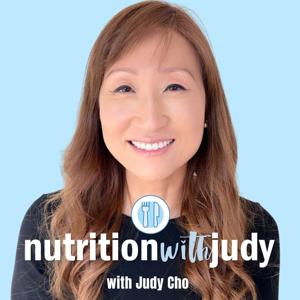 162. How Liver Got Me Sick on a Carnivore Diet - Paola Dziwetzki
03.07.2022 - By Nutrition with Judy
I'm excited to share this very honest and open conversation about liver and vitamin A toxicity. While this information is highly controversial, it's important to stay open to new information as the goal for everyone is to heal and have optimal health.
Paola Dziwetzki, aka the Crazy Ozone Lady, is the founder of thepowerofozone.com, an online resource for enthusiasts of ozone therapy and the leading authority on medical ozone use for the layman.
 
She is a licensed naturopathic practitioner, an independent researcher, and a huge fan of ozone therapy and the carnivore diet. Paola has been practicing ozone therapy for 11 years during which she resolved various health issues with ozone and the carnivore diet. 
 
During that time, she has become a trusted resource regarding medical ozone due to her popular website thepowerofozone.com, and continues to offer consultations and customized health coaching programs to professionals and patients across the globe.
  We discuss the following: Thoughts on eating liver and her journeyMuscle meat and dairy consumptionAdding liver, eggs and butter to a dietNutritional health for liverLiver for any child under the age of threeSymptoms experiencedRetinol in vitamin A and acid in the bodyFinding out it was liver with the new supplementsLow vitamin A diet and the hair tissue mineral testRisks of organ meatsLactoferrin supplementPaola's diet and messageWhere to find Paola Dziwetzki____
RESOURCESWhere to find Paola: https://thepowerofozone.com/ Facebook: https://www.facebook.com/thepowerofozone/ Odysee: https://odysee.com/@thepowerofozone:f YouTube: https://www.youtube.com/paoladziwetzki Lactoferrin: https://nutritiondetective.com/store/p/lactoferrin  Hair Tissue Mineral Test: https://nutritionwithjudy.com/shopping/functional-tests/hair-tissue-mineral-analysis-htma-comprehensive-hair-test-written-report/ The full list of show notes can be found in the video description on YouTube (available 3/8/22): https://youtu.be/R6qTDLgH5FI   ____ CHECK OUT MY BOOK, Carnivore Cure SIGN UP FOR MY WEEKLY NEWSLETTER _____  ADDITIONAL RESOURCES Nutrition with Judy Articles Nutrition with Judy Resources Cutting Against the Grain Podcast _____  **DISCLAIMER: I am only here to provide support as a nutritional therapy practitioner and I am not providing medical advice. I always recommend working with a team of holistic practitioners, including your PCP and a certified nutritional therapy practitioner. Do not self-diagnose. Always seek medical guidance when you have a medical condition.
Head over to paleovalley.com/nwj and get 15% off your first order. Discount automatically applied during checkout.