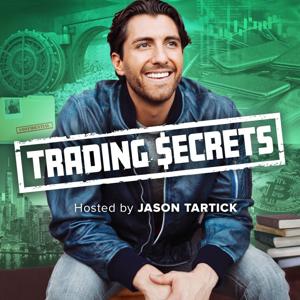 53: How 1 post changed his life! Netflix's Cheer music producer, Roland Pollard tells us how!
05.23.2022 - By Trading Secrets
Check out The Restart Roadmap: Rewire and Reset Your Career now!
 
In this week's episode, Jason chats with former cheerleader and stunt expert, entrepreneur, and podcast host Roland Pollard about all of the money behind the music business. Roland dives into how much he makes per track that is produced and sold, what goes into producing a track, and the secret to finding financial security in your life. He discovered his unique position in the cheer training niche and quickly learned to leverage his skill set in order to drive earnings – but how exactly? Roland discusses his approach to social media monetization and the strategies he used to determine his value. In the episode, he also elaborates on the complexity of the relationship with his daughter (as a dad, coach, and business manager). Did he expect that he would go viral? How did he overcome the haters? What does his 3-month time off plan look like? Is DJ Ro in the cards? Roland answers all of that, plus his financial aspirations and what is next on the horizon for him in another episode you can't afford to miss.
 
Sponsors:
Omahasteaks.com keyword SECRETS for 8 free Omaha Steaks burgers
Thefarmersdog.com/secrets for 50% off and free shipping
Altoira.com/secrets to open an account
 
Host: Jason Tartick
Voice of Viewer: David Arduin
Executive Producer: Evan Sahr
 
Produced by Dear Media.