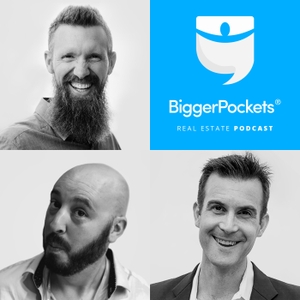 If you don't feel amped up to accomplish your goals, you definitely will after this episode. Today we talk to real estate agent, entrepreneur, author, and Million Dollar Listing New York star, Ryan Serhant. You've probably seen Ryan selling ridiculously nice (and expensive) homes on TV, but today you'll be the private audience to hear his backstory, his work ethic, and how he developed his big confidence.
Ryan moved to New York to become the next big star in theatre, but after seeing the financial position of those "successful" actors he looked up to, he made a pivot. Ryan got his real estate license and started listing apartments to pay his bills, but was given a golden opportunity when an foreign buyer specifically chose him to find her next multi-million dollar home in New York City. Ryan still remembers the lack of confidence he felt when he got the listing, and knew the only thing to do was educate himself and practice his pitch. Long story short, he helped the buyer find her dream home, and the rest is history.
You'll hear Ryan talk about the importance of confidence, not only in this podcast, but in his new book Big Money Energy. Brandon and David both agree with Ryan on how important, and often undervalued, having confidence is. Not just confidence in your work, but confidence that you'll be able to accomplish the most challenging tasks you set for yourself!
In This Episode We Cover:Selling the most expensive home in FloridaUsing the pandemic to springboard a new career or venture Taking on a task, developing the confidence, and succeeding Leaning to own the things that make you different from everyone elseStop focusing on the deals and start focusing on "the work"Many, many multi-million dollar deal storiesAnd So Much More!Links from the ShowBiggerPockets ForumsBiggerPockets WebinarsBiggerPockets BlogBiggerPockets BookstoreBiggerPockets PodcastSerhant BrokerageRyan's personal websiteClick here to check the full show notes: https://www.biggerpockets.com/show465