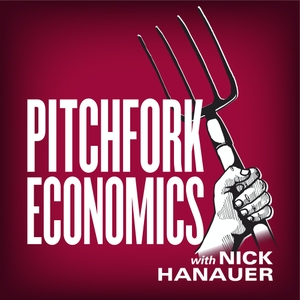 What's the next generation of access to credit? Why are home prices and rents so out-of-whack with each other? And how can we approach the discord between what liberals say they want for their community versus what housing and development policies they'll actually support? Glenn Kelman, the CEO of real estate brokerage website Redfin, helps us examine the future of housing and the best ways that companies like his can contribute to solving the housing crisis. 
And if you're wondering why this episode sounds so good, or why nobody mentions the pandemic… it's because this conversation is from our archives of interviews that we recorded in-studio, just before the pandemic hit. But don't let that discourage you—this is still just as relevant today as the day it was recorded. Enjoy! 
Glenn Kelman is the CEO of Redfin. 
Twitter: @glennkelman
Website: http://pitchforkeconomics.com/
Twitter: @PitchforkEcon
Instagram: @pitchforkeconomics
Nick's twitter: @NickHanauer