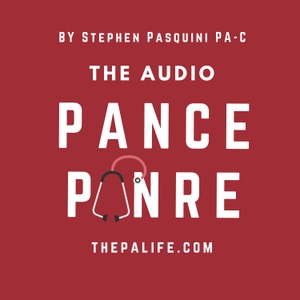 Welcome to episode 82 of the Audio PANCE and PANRE PA Board Review Podcast
Join me as we welcome Joe Gilboy PA-C back again to cover best practices that make answering even the toughest PANCE and PANRE Board review questions (and EOR exam questions) a breeze!
Below you will find interactive audio breaking down each question. It's a perfect companion to the podcast.
Special from today's episode:
* Listen to Joe's previous podcast episodes:
* How to Study for Your PANCE: Podcast Episode 79
* Podcast Episode 65: Hepatitis B Breakdown
* Start with high-quality questions in tutor mode (untimed with hints on we have a TON on Smarty PANCE)
* Poem "lockdown" by Brother Richard Hendrick
* Content Blueprint Review Course and EOR Courses
The Audio PANCE and PANRE Board Review Podcast Episode 82: How to Answer The Hardest PANCE/PANRE Test Questions
I hope you enjoy this free audio component to the examination portion of this site. The full board review course includes over 2,000 interactive board review questions and is available to all members of the PANCE and PANRE Academy and Smarty PANCE.
* You can download and listen to past FREE episodes here, on iTunes, on Google Play Music or Stitcher Radio.
* You can listen to the latest episode, take an interactive quiz, and download more resources below.
If you can't see the audio player click here to listen to the full episode.
Questions we break down in this episode:
The following questions are linked to NCCPA Content Blueprint lessons from the Smarty PANCE and PANRE Board Review Website
Question 1: Developing good test-taking habits
1. 10-year-old boy presents to the emergency department complaining of sudden onset lightheadedness and chest discomfort, vital signs, 98.6, heart rate of 205, respiratory rate of 30 and 98% oxygen saturation, his EKG demonstrated sinus tachycardia with no p waves. What is the most likely diagnosis?
* A-fib
* A-flutter