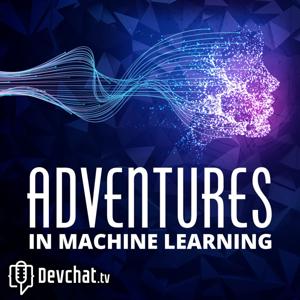 Conor Murphy joins the adventure to explain how he approaches new problems from customers at databricks and how he helps customers see their way past issues with their current solutions to get the outcomes they want.
Panel
Ben Wilson
Charles Max Wood
Francois Bertrand
Guest
Conor Murphy
Sponsors
Dev Influencers Accelerator
Level Up | Devchat.tv
PodcastBootcamp.io
Links
A dose of awe from the bleeding edge of neuroscience, AI and philosophy
LinkedIn: Conor B. Murphy
Instagram: Conor B Murphy ( conorbmurphy )
Picks
Ben- ArjanCodes - YouTube
Charles- PodcastBootcamp.io
Charles- Masters of Doom
Charles- How to Make Sh*t Happen
Charles- Tribe of Millionaires
Conor- The Art of Impossible
Charles- The Road Back to You
Conor- Scale
Francois- Favro
Contact Ben:
Databricks
GitHub | BenWilson2/ML-Engineering
GitHub | databrickslabs/automl-toolkit
LinkedIn: Benjamin Wilson
Contact Charles:
Devchat.tv
DevChat.tv | Facebook
Twitter: DevChat.tv ( @devchattv )
Contact Francois:
Francois Bertrand
GitHub | fbdesignpro/sweetviz
Special Guest: Conor Murphy. Sponsored By:
Top End Devs Coaching: If you have questions about how to grow your skills or take your career to the next level, join us on our next weekly coaching call. It's completely free.
Advertising Inquiries: https://redcircle.com/brands
Privacy & Opt-Out: https://redcircle.com/privacy