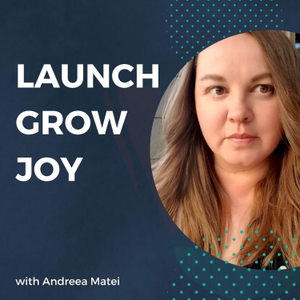 Have you ever wondered what it would take to be an entrepreneur, a brand ambassador, and have your own product to market? And to get celebrities to love and endorse your brand? It's no small feat, but fashion/beauty entrepreneur Ariana Pierce has been doing it since before she finished college.
One of Ariana's business ventures was creating a nail polish brand called Superstar Nail Lacquer. In addition to being featured in several famous magazines, her brand also boasts one of the first environmentally-friendly, fast-drying formulas.
On this episode of Launch Grow Joy, Ariana offers advice on how to be creative in the beauty industry or any other industry and how to develop and deepen beneficial relationships for greater success.
In this episode, you'll also hear about:
How did Ariana break into the glamorous beauty world?
How to "get uncomfortable" and be bold.
How can you use social media and video marketing?
What can you do to generate publicity?
How to be different and innovative in a competitive industry.
And so much more!
Even as a child Ariana was surrounded by successful entrepreneurs. Both of her parents chose entrepreneurship as a career path. Ariana followed boldly, making a name for herself in the beauty industry. She began her journey with the help of her mother, who aided in the scientific aspects of creating a nail polish line.
Ariana found that maintaining a relationship with some celebrities was vital in growing her company, and she advises to begin locally and work your way up. Even though sometimes she was told no, she persevered and now she has a substantial following and influence.
She also knows the power of social media: she has used her social media accounts to greatly expand her business, while being able to keep it personable. She began by auctioning off some passport covers on her Instagram account, and was pleasantly surprised by the viral reaction.
On today's episode Ariana shares her best guidance on how to create a helpful and useful staff, how to utilize publicity to its maximum potential, and how to think on your feet and turn a bad situation into an opportunity. Tune into this edition of Launch Grow Joy to hear it all!
Resources:
Ariana Pierce's website
Superstar Nail Lacquer
Ariana on Twitter
Ariana on Instagram
Ariana on Facebook
Ariana on YouTube
Ariana on Pinterest
Contact Any Celebrity
Your Ultimate Online Store
Subscribe to Launch Grow Joy Show on iTunes
Question: After hearing Ariana what are you going to do that's uncomfortable for you, but will grow your business? Leave a comment below and let me know.
---
This episode is sponsored by
· Anchor: The easiest way to make a podcast. https://anchor.fm/app
---
Send in a voice message: https://anchor.fm/launchgrowjoy/message
Support this podcast: https://anchor.fm/launchgrowjoy/support