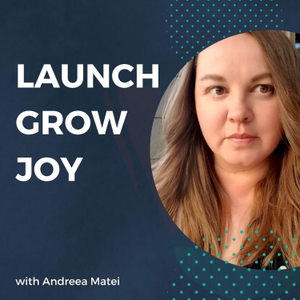 Do you really need an email list or is that just for online marketing businesses? Every business in every industry benefits from having people to email, and here to tell us why is Sarah Shuda of Open Merit. With Open Merit Sarah runs a successful email services company creating custom campaigns for people and businesses in a variety of industries.
On this episode of Launch Grow Joy Sarah and I talk about all things email marketing: why it's important to grow your email list, how often you should email and some content ideas for those emails.
Sarah's journey to creating Open Merit began after college. She took a position with an e-commerce company as her first job. But because she had always wanted to own her own business, both of her parents are entrepreneurs, she eventually started her own company too.
In this episode, you'll also hear about:
Why is it important to build an email list?
Should you choose double opt-in or single for your email signups?
How often should you email your list?
When is the best time of the day and the best day of the week to send an email?
Sarah's top content suggestions on what to send to your list.
And so much more!
Her first business, which she still owns and operates today, is Sarah Lynn Design (a web design firm). But so many of her clients came to her with email marketing questions she saw a need and created Open Merit. Open Merit uses Sarah's email marketing skills and design skills to offer custom email campaigns.
On today's show Sarah explains why every business, no matter what niche, can benefit from email marketing and she tells us the right way to product quality email content for that list.
When most people think of email marketing they of sales. And while that's an attractive benefit, Sarah says email marketing is a way to know your clients better. You can email the people on your list and ask them what their needs are, what they're looking for and then you give them what they need.
And sometimes what they will need will be in the form of content, and Sarah gives her best strategies for content creation.
For example you can share some behind-the-scenes happenings at your business. Do you make hand-crafted candles? Shoot a video explaining how you create them, and email that video to your audience. By showing your email list more about who you are and what your business does you'll begin to develop a deeper connection.
We also talk about when to send your emails: how often and the time of day and day of the week plus how much personal information you should ask for upfront. Tune into this edition of Launch Grow Joy to hear it all.
[Tweet "There's no list too small to send an email! @SarahShuda"]
Resources:
Open Merit website
Sarah Shuda on Twitter
https://anchor.fm/app
---
Send in a voice message: https://anchor.fm/launchgrowjoy/message
Support this podcast: https://anchor.fm/launchgrowjoy/support