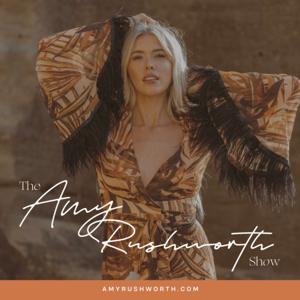 81 - How To Market The Shit Out Of Your Biz In An Authentic Way with Rebecca Ives
10.08.2021 - By The Amy Rushworth Show
NEW 2022 BUSINESS PROGRAM IS NOW LIVE!!! >>> https://amyrushworth.com/unapologetic
This week's guest is Rebecca Ives, a psychic marketing coach and self-proclaimed "Content Queen." 
She talks about marketing unlike anyone else because she's authentic, fun, controversial and sexy. She helps her clients' blast open their "hot content channel" and grow their online businesses to new levels by up-levelling their confidence and delivering from their soul. 
This ep dives into the controversy and conflict of these crazy times, the impact on our businesses and how we can be true to our soul's purpose. In a time when people are unsure of what they should or shouldn't be saying online, Rebecca gives so many insights, including:
✨Focussing on the deeper why of what you are doing and saying. 
✨How purpose energy can quieten noise around us and make us feel braver, allowing us to say what we need to. 
✨How to face up to the online judgement
✨Safety vs Soul and how balancing that will allow you to integrate your magic into your marketing.
✨Why setting boundaries not babysitting our social media channels, will allow us to keep our power and show ourselves deeper love. 
✨Removing the shame from our human experiences, remembering our vulnerabilities make us real and make for an expansive experience for our followers. But "weird mood proofing" can allow us to have a plan for what we are committed to being online, allowing us to have bad days and move through that without impacting what we want to share. 
✨How the obsession with metrics is actually about inner work. Getting curious about this obsession and focussing on what's happening in our bodies, will show you what you are really missing. The aim being that false desire will ultimately be stripped away. 
✨Why some people might be posting with consistency, authenticity and still not be experiencing growth. And how that could be linked to your energetic concept of yourself. 
Connect with Amy...
Insta - @thisisamyrushworth
Website - amyrushworth.com
Join Amy's OA Membership - https://amy-rushworth.mykajabi.com/orgasmic-ascension-membership
NEW 2022 BUSINESS PROGRAM IS NOW LIVE!!! >>> https://amyrushworth.com/unapologetic
Connect with Rebecca...
Insta - @thecontentqueen