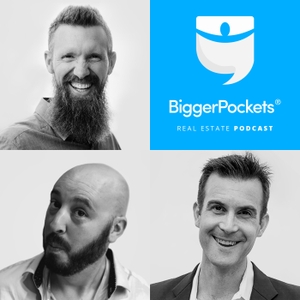 Would your real estate investing business benefit from better negotiating tactics? Of course it would!
On today's show, Brandon and David sit down with J and Carol Scott, as well as Mark Ferguson, co-authors of the new BiggerPockets book The Book on Negotiating Real Estate. The authors discuss several powerful negotiating strategies, plus common misconceptions about negotiating, how "winning" in negotiating doesn't always mean the other side is losing, and how the best deals are done through building rapport (with examples of how to do just that).
You won't want to miss their tips on how to prepare for a negotiation beforehand—something that's made them hundreds of thousands of dollars over the years—and how to negotiate with your own contractor to get the best prices possible!
This episode is full of advice to help you, the investor, save money and get deals. If you want to experience better results getting what YOU want out of a deal, download this one today!
In This Episode We Cover:Introducing J, Carol, and MarkCommon misconceptions about negotiatingHow winning doesn't always mean the other side losingThe right mindset when it comes to negotiatingHow building rapport can get you dealsLearning to shift the negotiation off of price and into something elseTips in preparing for your negotiation beforehandNegotiating with your contractor to get the best deal possibleThe tip that's made them hundreds of thousands of dollars over the yearsHow they closed on a deal using negotiating tactics to lower the price on an already great dealAnd SO much more!Links from the ShowBiggerPockets ForumsBiggerPockets WebinarBrandon's InstagramBe a Podcast GuestBiggerPockets Podcast 311: 6 Rules for Investing in Real Estate in the Coming Economic Shift with J ScottBiggerPockets Podcast 010 : Flipping Houses 101 with J ScottBiggerPockets Podcast 068: Being a Superhero House Flipper, Investor, and Team Leader with Mark FergusonThe Best Ever ConferenceBiggerPockets Podcast 189: 500 Deals, the $100,000 Wholesale Paycheck, & the Systems That Make it Work with Tarl YarberBooks Mentioned in this ShowBRRRR by David GreeneThe Book on Flipping Houses by J. ScottThe Book on Negotiating Real Estate by J. Scott, Mark Ferguson, and Carol ScottMoneyball by Michael LewisThe Book on Rental Property Investing by Brandon TurnerLong-Distance Real Estate Investing by David GreeneThe Millionaire Real Estate Investor by Gary KellerNow, Discover Your Strengths by Marcus BuckinghamToo Perfect by Jeannette Dewyze & Allan MallingerThe ONE Thing by Gary Keller and Jay PapasanTweetable Topics:"90% of negotiation is literally the skills all of us already have." (Tweet This!)"Treat every conversation as a discussion as opposed to as a questionnaire." (Tweet This!)"Negotiate everything, always." (Tweet This!)"The person who cares the least has the most power." (Tweet This!)Connect with J and CarolJ and Carol Scott's WebsiteJ's BiggerPockets ProfileCarol's BiggerPockets ProfileJ's Facebook ProfileJ's Twitter ProfileConnect with MarkMark's WebsiteMark's BiggerPockets ProfileMark's Youtube Channel