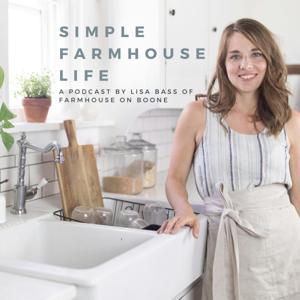 128. How to Shop for Antique and Vintage Finds | Amanda Marie of Sincerely Marie Designs
04.14.2022 - By Simple Farmhouse Life
Curating a home decor style that feels collected takes time and intention.  Amanda of Sincerely Marie Designs has done a beautiful job achieving this look and feel in her home, and she is joining me to talk about one of my favorite topics: decorating your home with vintage and antique pieces.  Many of our current home inspiration sources — HGTV, Pinterest, Instagram — can give us the unrealistic expectation that our home decor should be perfectly put together all at once.  Amanda and I discuss how there is actually so much beauty in slowly piecing together your decor over time.  We are sharing some practical tips for how you can source and incorporate antique, handmade, and repurposed pieces into your own home.
In this episode, we cover:
Where to find decor inspiration that aligns with your style
Favorite DIY projects: ottoman, stair detail, lampshade
How to transform a lampshade with fabric and a hot glue gun
Where to start when transforming a room with antique decor
The trick to finding what you're looking for on Facebook Marketplace
Tips for avoiding secondhand purchases you'll regret
A secret weapon decor item for both form and function
What to hang on your wall when you aren't sure what you want there
Things to consider when searching for a rug
How to bring your home decor together so it feels collected instead of cluttered
RESOURCES
Tessa Foley of Nine and Sixteen
Jean Stoffer
Heather Strommen of Sweet Shady Lane
Pleated Ottoman Slipcover How-To
Adding Charm to a Staircase
DIY Pleated Lampshade How-To
Block Print Quilts on Etsy
Revival Rugs
CONNECT
Amanda Marie of Sincerely Marie Designs | Website | Instagram | Facebook | Pinterest
Lisa Bass of Farmhouse on Boone | Blog | YouTube | Instagram | TikTok | Facebook | Pinterest
Join us in the Simple Farmhouse Life Facebook community!
GET MORE FROM THIS EPISODE
Watch this episode on YouTube.
View full show notes and transcript on the blog.