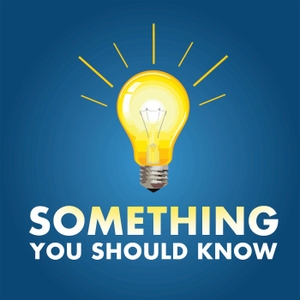 When was the last time you washed your watch? Not recently I bet. So this episode begins with just how gross and disgusting the surface of your watch and watchband are and why they need a bath right now – today! http://www.ladbible.com/news/uk-watches-three-times-dirtier-than-toilet-seats-study-finds-20190623
Some people believe vaccines cause autism – science says no. Some people believe in ghosts and UFOs – science says no. But just because science can't explain it – does that mean it isn't true? Steven Novella is a skeptic who believes that we should probably all be a bit more skeptical of things, events and phenomenon that can't be explained and he joins me to reveal why this is so important. Steven is the author of the book The Skeptics Guide to the Universe (https://amzn.to/2Ycr16d) and host of the podcast of the same name which you can find on your favorite podcast platform or here: https://www.theskepticsguide.org/podcasts
If you like yogurt, you'll like it even better if you eat from a certain type of spoon. If you like cheese it will most likely taste better to you if eat it off a particular type of utensil. Listen to find out which spoon and which utensil and why this happens to be true. https://abcnews.go.com/blogs/health/2013/06/27/yogurt-tastes-different-depending-on-the-spoon/
Do you suck at something? Maybe it's playing an instrument or skiing or cooking. You probably didn't start out wanting to suck at it – but here we are. You do it and you suck at it. Well, it turns out that may be a good thing. Writer Karen Rinaldi author of the book It's Great to Suck at Something (https://amzn.to/2Lj05xY) explains why it is perfectly fine to NOT do some things well. She has been a surfer for 18 years and by her own admission – sucks at it. But she still does it, she still loves it and says there are actual benefits to doing things not for the achievement or the trophy but just to do it.  
This Week's Sponsors
-Paint Your Life. To learn more and get a 30% discount text SYSK to 48-48-48
-Purple Mattress. To get a free pillow with a purchase of a mattress text the word: something to 84888
-Stroke of Genius Podcast. Subscribe to Stroke of Genius on Apple Podcasts, at www.ipoef.org, or your favorite podcast platform.
American River Nutrition. Get your free copy of Dr. Barrie Tan's book The Truth about Vitamin E at www.BarrieTan.com/something