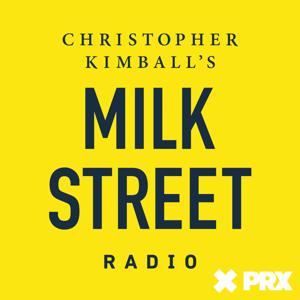 Pati Jinich is on a quest to show people what Mexico looks like and tastes like. She breaks down the common denominators of Mexican cuisine, tells us why she lives and dies for her blender and reveals her favorite recipes for chicken soup. Plus, writer Brandon Cook gives us a language lesson on drinking toasts from around the world, Alex Aïnouz has an epiphany about homemade pasta, and we bake up an ultra-easy Swedish "Sticky" Chocolate Cake.
Get the recipe for our Swedish "Sticky" Chocolate Cake: https://www.177milkstreet.com/recipes/swedish-sticky-chocolate-cake
We want to hear your culinary tips! Share your cooking hacks, secret ingredients or unexpected techniques with us for a chance to hear yourself on Milk Street Radio! Here's how: https://www.177milkstreet.com/radiotips
This week's sponsors: From extraordinary cheese boards to remarkable recipes, Cambozola is a treasure too good not to share. Visit www.thisisfinecheese.com for recipes, pairings and to find Cambozola at a store near you.  Hosted on Acast. See acast.com/privacy for more information.