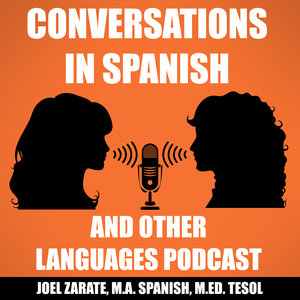 | Show Notes |
 In this episode, I am having a conversation with my good friend Cintia Zapata about how she celebrates Christmas, and how they celebrate Christmas in Argentina. Cintia offers Spanish online lessons and if any of you is interested in taking lessons with Cintia, I will leave the link to her profile from the platform she uses to offer Spanish lessons down below and on this conversation webpage.
Visit the web page for this conversation
https://www.jezsc.com/csolp/spanish/s01_100/s0087_cintia_argentina_navidad/s87_cintia_navidad_argentina.html
Visit Cintia's profile page on italki
https://www.italki.com/teacher/2409068
Visit Cintia's blog here if you would like find out more about Cintia.
https://cintiaenespanol.com/
Visit my website
https://www.jezsc.com/
Visit the Second Language Acquisition Workshop Podcast
https://www.jezsc.com/slawp/
Follow me on Twitter
https://twitter.com/joelspanishcafe
Find me on Facebook Page
https://www.facebook.com/jezsc/
Find me on Instagram
https://www.instagram.com/joelspanishcafe/
If you are listening to the podcast on iTunes or on you iPhone, iPad or iPod with the Apple Podcast app, I would love it if you leave me a 5 star review and a written review. Your comments are very helpful to help the show succeed in this platform.
Thank you for listening!