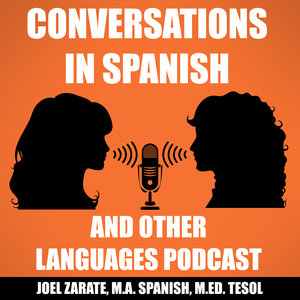 | Show Notes |
 Welcome to our Christmas special episodes! In these episodes, we'll talk about how we celebrate Christmas in different Spanish speaking countries, and it is also an opportunity to learn vocabulary related to the Christmas season.
During the month of December, all the episodes will be about Christmas, and in this episode, I'm having a conversation with my good friend, cohost and contributor: Alba Sánchez from Murcia, Spain, and she shares with us how she celebrates Christmas, and how Spaniards celebrate Christmas and New Year.
Visit the web page for this conversation
https://www.jezsc.com/csolp/spanish/s01_100/s0086_alba_espana_navidad/s86_alba_navidad_espana.html
Visit Alba's profile on italki
https://www.italki.com/teacher/5281034
Visit Alba's profile on Verbling
https://www.verbling.com/teachers/56653847488168756942
Visit Alba's YouTube Channel: El español de Alba
https://www.youtube.com/channel/UCDrBw8w38tikoXJJVCRYiaQ
Visit my website
https://www.jezsc.com/
Visit the Second Language Acquisition Workshop Podcast
https://www.jezsc.com/slawp/
Follow me on Twitter
https://twitter.com/joelspanishcafe
Find me on Facebook Page
https://www.facebook.com/jezsc/
Find me on Instagram
https://www.instagram.com/joelspanishcafe/
If you are listening to the podcast on iTunes or on you iPhone, iPad or iPod with the Apple Podcast app, I would love it if you leave me a 5 star review and a written review. Your comments are very helpful to help the show succeed in this platform.
Thank you for listening!