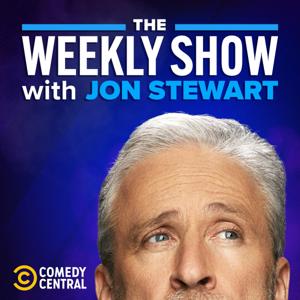 In the United States, we pride ourselves on having a free market economy—but we don't actually have one. Corporations are given endless help while workers often struggle to survive. Jon sits down with Jamie Dimon, CEO of JPMorgan Chase, to discuss these two sides of the economy.
CREDITS
Hosted by: Jon Stewart
Featuring, in order of appearance:
Jay Jurden, Jamie Dimon
Executive Produced by Jon Stewart, Brinda Adhikari, James Dixon, Chris McShane, and Richard Plepler.
Lead Producer: Sophie Erickson
Producers: Caity Gray, Robby Slowik
Assoc. Producer: Andrea Betanzos
Sound Designer & Audio Engineer: Miguel Carrascal 
Assistant Sound Editor: Brian Bonifacio
Senior Digital Producer: Kwame Opam
Digital Coordinator: Norma Hernandez
Supervising Producer: Lorrie Baranek
Head Writer: Chelsea Devantez
Elements Producer: Kenneth Hull
Talent: Brittany Mehmedovic, Haley Denzak
Research: Susan Helvenston, Anne Bennett, Deniz Çam Theme Music by: Gary Clark Jr.
The Problem With Jon Stewart podcast is an Apple TV+ podcast, produced by Busboy Productions.
https://apple.co/-JonStewart