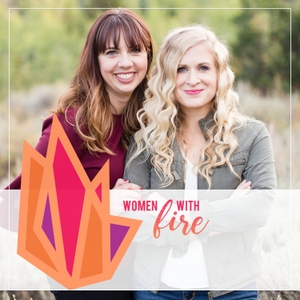 Episode 98: Julie Boye of The Boye Family Jewels Youtube channel
04.09.2019 - By The Women with Fire
Show Notes:
On this episode of The Women with Fire Podcast, Michelle interviews Julie Boye, of the Boye Family Jewels Youtube channel and Instagram. Julie gives a little background on how she met her husband, and what it was like dating and having an interracial marriage, and why she had the idea to start her Youtube channel.
She shares what it has been like to raise six kids (with one on the way) with a husband who travels a lot, and how she deals with being alone a lot of the time, and how to be positive and get through hard times.
Julie opens up about her struggle with post-partum depression and the hormonal ride she's been through as she has brought her 6 (almost 7) kids into the world, and also how she sees God in her everyday life.
Quotes:
"It doesn't make anybody else feel good, to see the perfectness. It makes us feel deflated and defeated. Comparison is the thief of joy."
"Whether it's with your words or your actions, be bold, be brave, and don't be afraid!"