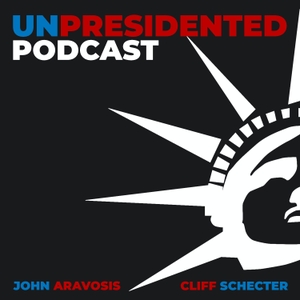 In today's episode, Cliff and I talk about the two-night Democratic presidential debate, and Trump's ongoing train-wreck of a mini-summit that Donald Trump held with Putin today in Japan. As for the debate, Elizabeth Warren won the first night, and Kamala Harris won the second. But Pete Buttigieg did well too, as did Julián Castro and Corey Booker. (We thought Bernie yelled too much.) As for Biden, it wasn't his best performance, to say the least. Harris clearly bested him.
As for Trump and Putin, Trump is still a traitor, who joked this morning about Putin killing journalists, and then joked about Putin attacking our elections. Trump's a horrible human being, but what are we going to do about it, and what are we going to do on January 20, 2021 if Trump refuses to leave office after he loses? All that and more in today's episode.
To help support independent media and keep UnPresidented ad-free, please consider becoming a patron of our podcast on Patreon for the price of one frappuccino a month: https://www.patreon.com/join/UnPresidentedPodcast?