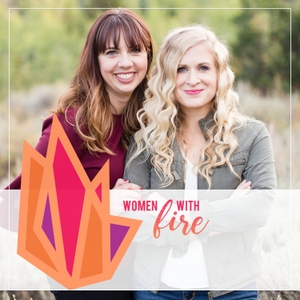 Show Notes:
On this episode of The Women with Fire Podcast, Sarah interviews Kate Lee, and artist for Deseret Book. Kate talks about her paintings, and the message she's trying to convey.
She talks about how from a very young age and growing up she was very insecure and afraid to be in front of people. She struggled in traditional school and had trouble finding her confidence. She talks about how she overcame that and really came to know who she was and embraced herself and her talents, and gained her confidence.
Kate talks about her mission, how she decided to go, and the amazing transformation in her confidence that she found with the help of her companion.
Kate talks about the courage it took to finally submit her paintings to Deseret Book and the moment she found out they wanted to take on her art, and how exciting and nerve-racking it was to take that leap of faith.
Quotes:
"Stop doubting yourself, and just do what you're prompted to do, and be okay with it." -Kate Lee
"When we embrace the person that Heavenly Father made us, and the qualities that we came with, then everything else, the adversary, the blows, the pulls of the world, really have no effect on us, because we're focused on who we really truly are." -Kate Lee