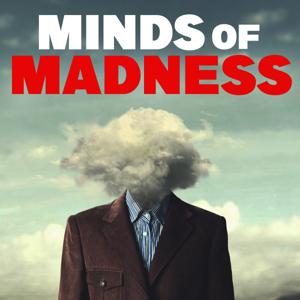 In the summer of 2016, in the city of Bend Oregon, the future was looking bright for Kaylee Sawyer. The 23-year old had recently decided on becoming a dentist, was in a loving relationship with her long-time boyfriend, and had the full support of her close-knit family.
But in the early morning hours of July 24th, while Kaylee was walking alone in the dark after a rare argument with her boyfriend, someone she thought she could trust offered her a ride. Someone she thought could help her.
Music Credits:
The Minds Of Madness Theme Music – Duncan Foster
Feel The Madness - The Funkoars
Used with Permission - http://goldenerarecords.com.au/ge/funkoars
Please check out this episodes sponsors and help support our podcast:
Mint Mobile - To get your new wireless plan for just 15 bucks a month, and get the plan shipped to your door for FREE, go to https://www.mintmobile.com/madness
Ana Luisa - go treat yourself and your loved ones and use code MADNESSMD to get 15.0% off. https://www.analuisa.com/madnessmd
SimpliSafe - get a FREE home security camera, when you purchase a SimpliSafe system at https://simplisafe.com/madness
Caliper CBD - Get 30% off Caliper's all-natural, flavored Swiftstick Variety Packs when you use promo code MADNESS30 at http://trycaliper.com/madness30
BetterHelp - Special offer for The Minds of Madness listeners: get 10% off your first month at betterhelp.com/madness
Calibrate - Get back in control of your weight and your health with Calibrate. Check to see if Calibrate is available in your state and sign up today at https://www.joincalibrate.com If you enter MADNESS you'll receive $50 off your one-year membership.
Best Fiends - Download Best Fiends FREE on the Apple App Store or Google Play
Madison Reed: Get 10% off plus FREE SHIPPING on your first Color Kit go to madison-reed.com and enter PROMO CODE: MINDS
Research & Writing:
Ryan Deininger
Featured Podcast:
Unethical Podcast
https://unethicalpodcast.blubrry.net
If you would like to support the show and get some extra perks including extra content, including early release/ad-free episodes, Go to - https://www.patreon.com/MadnessPod
Website - https://mindsofmadnesspodcast.com/
Facebook - https://www.facebook.com/themindsofmadness/
Twitter - @MadnessPod https://twitter.com/MadnessPod
Instagram - https://www.instagram.com/themindsofmadness/
Sources:
https://www.bendbulletin.com/localstate/friends-fondly-remember-kaylee-sawyer/article_4d06a13d-d760-5998-9948-9929c3cdd747.html
https://www.findagrave.com/memorial/167800052/kaylee-anne-sawyer
https://www.mycentraloregon.com/2016/07/26/update-bend-resident-kaylee-sawyer-was-hit-by-car-then-body-dumped/ 
https://www.youtube.com/watch?v=e0QHfWcCmog
https://ktvz.com/news/2018/04/20/da-releases-lara-murder-case-evidence
https://www.kgw.com/urgetokill 
https://www.dailymail.co.uk/news/article-9043427/Mother-23-year-old-woman-killed-campus-security-wanted-ask-colleagues-red-flags.html
https://www.oregonlive.com/crime/2019/04/federal-judge-issues-2nd-life-sentence-for-edwin-lara-a-campus-security-officer-turned-killer-armed-carjacker-and-kidnapper.html#:~:text=Drug%20and%20alcohol%20abuse%20caused,degree%20from%20Portland%20State%20University
https://www.youtube.com/watch?v=D3Averw3z4Q&ab_channel=KGWNews
https://www.facebook.com/watch/?v=781583445621799
https://www.redmondspokesman.com/news/lara-pleads-guilty-to-murdering-kaylee-sawyer/article_605b94b0-f6f7-505b-9fdf-0351833bbbd1.html
Dateline NBC - Into the night
See Privacy Policy at https://art19.com/privacy and California Privacy Notice at https://art19.com/privacy#do-not-sell-my-info.