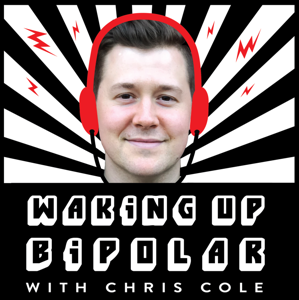 In this episode of Waking Up Bipolar, Chris Cole speaks with Kelli Foulkrod—licensed psychotherapist, yoga teacher, and healing arts practitioner located in Austin, Texas. For the past 16 years, Kelli has been working in the mental health field and practicing yoga and meditation.  Kelli approaches mental health from a holistic lens, and incorporates the body, soul, and spirit into modalities for addressing human suffering.  She is an advocate for informed consent in mental health treatments in America, and is on a mission to help create a paradigm shift in mainstream mental health treatments. She has experience working with individuals, couples, and groups with a variety of populations including depression, anxiety, bipolar, psychosis, substance abuse, homelessness, and perinatal mental health. The goal of Kelli's work is to empower the individual to become their own healer and reconnect with The Earth, in order to stop relying on an expert outside of themselves for the answers. 
As you'll hear, Kelli Foulkrod is a brilliant, passionate advocate for the human spirit, weaving psychological and clinical theory into ancient healing arts with an ease indicative of mastery in both western and eastern healing. What most strikes me is how Kelli looks to transform the mental health system rather than abandon it altogether, in order to reach as many people as possible.
Watch on YouTube: https://youtu.be/eyF2B_9_0bo
Watch on Facebook: https://www.facebook.com/wakingupbipolar/videos/2005127053069473/
Keep up with Kelli Foulkrod by visiting https://organicmentalhealthcenter.com
Kelli's 7-week video series, Yoga for Your Mental Health: https://organicmentalhealthcenter.com/yoga-for-your-mental-health-videos/
Organic Mental Health Center on Facebook: www.facebook.com/organicmentalhealthcenter
Organic Mental Health Center on Instagram: www.instagram.com/omhealthcenter/
JOIN THE DISCUSSION at https://www.facebook.com/groups/wakingupbipolar
Chris Cole hosts the Waking Up Bipolar podcast, focused on the intersection of bipolar disorder and spiritual awakening. He is the author of The Body of Chris: A Memoir of Obsession, Addiction, and Madness, inspired by his own journey of spiritual unfolding and mental health challenges. Chris Cole offers life coaching for any number of mental health conditions, specializing in bipolar disorder and spiritual emergence. Chris's experience with addiction, disordered eating, body dysmorphia, psychosis, and spiritual emergency allows him to relate to a wide range of clients. He utilizes a holistic approach to mental health which views wellness in physical, mental, emotional, social, and spiritual domains. Learn more about Chris and his work at colecoaching.com.
The Waking Up Bipolar podcast in now available on the following platforms:
Apple Podcasts | apple.wakingupbipolar.com
Google Play | google.wakingupbipolar.com
Stitcher | stitcher.wakingupbipolar.com
TuneIn | tunein.wakingupbipolar.com
wakingupbipolar.com