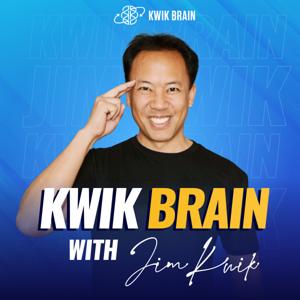 Kwik Brain with Jim Kwik
By Jim Kwik, Your Brain Coach, Founder www.KwikLearning.com
What's Kwik Brain with Jim Kwik about?
Kwik Brain is a fun, fast-paced show designed to help busy people learn and achieve anything in a fraction of the time! Your coach, Jim Kwik (his real name), is the brain & memory trainer to elite mental performers, including many of the world's leading CEO's and celebrities. In this easy to digest bite-sized podcast, you will discover Kwik's favorite shortcuts to read faster, remember more, and 'supercharge' your greatest wealth-building asset: your brain. Whether you're a student, senior, entrepreneur or educator, you will get the edge with these simple actionable tools to sharpen your mind, enhance your focus, and fast-track your fullest potential. Get show notes, Jim's latest brain-training, and submit your questions in our private community (free) at: www.KwikBrain.com
Jim Kwik is the founder of KwikLearning.com, a widely recognized world leader in speed-reading, memory improvement, brain performance, and accelerated learning with students in over 150 countries.
After a childhood brain injury left him learning-challenged, Kwik created strategies to dramatically enhance his mental performance. He has since dedicated his life to helping others unleash their true genius and brainpower to learn anything faster and live a life of greater power, productivity, and purpose.