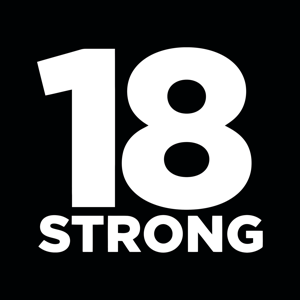 In this episode, we have Kye Goalby, who is one of the world's most sought after golf course shaper/designer. And I'm not talking about just any golf courses, I'm talking about some of the top courses in the world like Ballyneal, Sebonack, Pasatiempo, Oakland Hills, Old MacDonald, and many more. So today we are going to be talking about what makes a golf course 18STRONG?
Shaping and designing golf courses is in many ways a behind-the-scenes kind of profession. In fact, one of Kye's proudest achievements is when a golfer can't even tell that he was ever there.
We often hear the names of the architects he has worked with; Tom Doak, Bill Coore, Gil Hanse, but Kye is the guy that comes in to do tha actual work of shaping, moving earth, rolling greens, and all of the other things that most of us never think about.
Along with Kye's pedigree in the golf course design world, he also happens to be the son of Bob Goalby, the 1968 Masters champion and is related to Jay and Jerry Haas. It is pretty safe to say that Kye grew up in a world filled with golf, yet unlike some of his family members who made their living teeing it up on the course, Kye is making his playing in the dirt.
Golf Course Design Highlights
See a list of Kye's Course Design HighlightsDownload
Highlights from this Episode
* The difference between a shaper and a designer and how he balances and trades off between the two hats depending on who he is working with and what the project calls for.* When and how he got into building golf courses and his history and experiences with golf as a child and young adult. He also talks about the different courses he has worked on and what his travel schedule looks like as he balances working on many different projects simultaneously.* What goes into building these courses and who he is designing and shaping these courses for when taking into consideration amateur play vs. professional and the challenges he faces from conception to actually moving earth. He also talks about the first things he notices on a golf course when he plays it and what we should look out for as well.* Kye shares some stories of growing up with his dad, getting off-hand golf tips from a masters champion, flying out to tournaments, and what happened when Sam Snead and Jack Nicklaus gave him advice hitting balls at Augusta.* His thoughts on how they have changed Augusta and what they need to do to continue adjusting it to keep up with the strength and distance the newer players can hit it.* He talks about Tara Iti golf course; his work on it, what makes it so special, and why everyone can't stop talking about it.
Parting Questions:
Caddyshack or Happy Gilmore?Caddy Shack
What is your walk-up song to the first tee box of the Masters?  Help by The Beatles
If you could play anywhere in the world with any 3 people, who would it be and where would you play?  Dad, Jay, and Jerry Haas at Cyprus Point
If you could make changes to any course in the nation, where would it be?  Re-touchup the greens and bunkering at Cyprus Point
Episode Sponsors
LINKSOUL: For your 20% discount on LINKSOUL gear, go to 18strong.