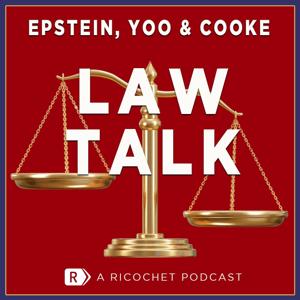 It may be Presidents Day (it's not, actually -- more on that later), but the faculty lounge is still open for business. In this months' session, Professors Richard Epstein and John Yoo are tackling the latest revelations from the Mueller investigation, what can be done about gun violence consistent with the Second Amendment, and whether restrictions on free speech have gone too far on college campuses.
Plus they're weighing on the most overrated and underrated presidents (in pursuit of the elusive ';Franklin Pierce fanboy' demo), unnecessarily quoting Latin (guess who), and, yes, giving Professor Yoo, Philadelphia Eagles devotee, his moment in the sun.
Sponsored by Casper, Quip
Join the conversation and comment on this podcast episode: https://ricochet.com/podcast/law-talk/lawyers-guns-russians/.
Podcast listeners: Now become a Ricochet member for only $2.50 a month! Join and see what you've been missing: https://ricochet.com/join/.
Subscribe to Law Talk With Epstein, Yoo & Senik in iTunes (and leave a 5-star review, please!), or by RSS feed. For all our podcasts in one place, subscribe to the Ricochet Audio Network Superfeed in iTunes or by RSS feed.