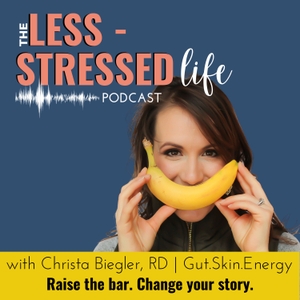 Less Stressed Life : Upleveling Life, Health & Happiness
By Christa Biegler
What's Less Stressed Life : Upleveling Life, Health & Happiness about?
Pssstttt: Have you heard of The Less Stressed Life podcast? I created it FOR YOU and will happily take suggestions for what you want to hear. It's purpose to help you minimize the overall stress in the listeners life, whether it's food-related, emotional or spiritual. Topics include getting stuff done, reducing inflammation, sleep, gut health, food sensitivities, integrative nutrition, lifestyle medicine, relationships, friendships, relaxation, life hacks and of course, kitchen ninja tricks. Anything that helps you sit in the driver's seat of your own happiness and less stress is fair game.
After my first year lifestyle & health coaching, I became an accidental life coach, realizing "it" is about more than just food. There's so many pieces to living our best life. I want to curate those tools and practices for you. Let's do this.