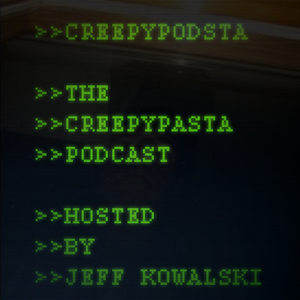 CreepyPodsta: The Creepypasta Podcast welcome backs Colin Parker and Graham Thompson this week to talk about Let Me Hear Your Voice.
Support the show on Patreon! $1 a month gets you two bonus episodes and one short story!
Theme music is by Matt Holt
If you want to be prepped for future episodes, go ahead and read up on He Went Ahead, Third Parent, Funnymouth, The Children Upstairs, The Showers, Old MacDonald Had A Farm, Huntsville Camping Trip, The Devil Lives on Old Mill Road, I Want To Scream, Jeff Went Left, The Clear Blue Spring, Dining Room or There is Nothing, I Dared My Best Friend To Ruin My Life, Devil's Night, On A Hill, Cabin Getaway, The Orangutans Are Skeptical of Changes in Their Cages, Arkansas Sleep Experiment, The Separation, Whispers, Dead Arm, Nine Brief Scenes From the End of the World, Graphic Design, Wanna See Me Take It All Off?, <a href="https://www.reddit.com/r/nosleep/comments/6l3i9t/if_the_stars_look_strange_be_wary/" data-unsp-sanitize...