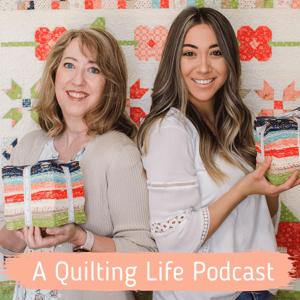 In this episode, Sherri and Chelsi answer listener questions, share their favorite quilt patterns they have personally designed, and rank their top 3 fabric collections. They also share some funny personal stories about one another and mention a few famous people they have met or run into.
For complete show notes, pictures, and links to all of today's featured quilts and fabrics, visit the A Quilting Life Blog: https://www.aquiltinglife.com/2021/11/a-quilting-life-podcast-episode-43-show-notes.html/
Botanical Garden (Quilt on the Wall): https://tidd.ly/3dH7Ye4
Magnolia (Quilt on the Table): https://tidd.ly/37VBWaU
Wildgrain Black Friday Week Discount: $30 off the first box + a free extra Sourdough Loaf in every box! Click the link below for a discount.
https://wildgrain.com/?rfsn=5985703.7e4060&discount;_code=AQUILTINGLIFE&discount;=10&utm;_source=refersion&utm;_medium=affiliate&utm;_campaign=august2021&utm;_term=5985703
Square in a Square papers from Fat Quarter Shop: http://shrsl.com/38wh2
Moda Bella Backgrounds for Sherri & Chelsi Collections: https://www.aquiltinglife.com/2021/08/sincerely-yours-bella-solids-coordinates.html/
Sherri's Favorite Quilt: Labor of Love Sampler: Blog posts here: https://www.aquiltinglife.com/category/labor-of-love/
Labor of Love book here: https://www.etsy.com/listing/762279321/labor-of-love-scrappy-quilts-at-the?ref=shop_home_feat_4&frs;=1
Sherri's second favorite quilt: Mahalo: https://www.etsy.com/shop/SherriQuilts?search_query=mahalo
Chelsi's favorite quilt: Little Town: https://tidd.ly/3C73XcZ
Chelsi's second favorite quilt: Hearts at Home: https://tidd.ly/3yOCYSa
NOTE: Some of the links provided here are affiliate links.
Visit the A Quilting Life YouTube channel for more great video content: https://www.youtube.com/channel/UCmSR-jDR956ATQe30JHX87w
Enjoy what you heard? Be sure to rate and review us on Apple Podcasts and your review could be read on the show!