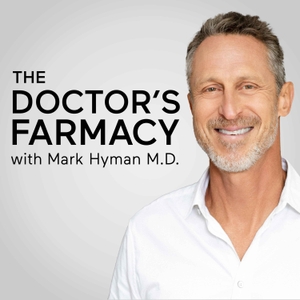 Long-Haul COVID And The Mysteries Of Coronavirus: A Path To Healing | This episode is brought to you by Athletic Greens, BiOptimizers, and TrueDark
The symptoms of COVID-19 are scary enough. What I personally find even more terrifying, is the long-haulers syndrome so many people struggle with months after "recovering" from acute COVID. In many people, lingering symptoms are occurring 6 to 9 months after COVID infection, hence the term long-haulers syndrome. It comes with a slew of symptoms, from fatigue and body aches to difficulty breathing, racing heart, vomiting, diarrhea, constipation, and more. COVID-19 was originally viewed as a respiratory disease but we've now gained a new understanding of its impact on our blood vessels and how that affects the entire body. 
There's no better person to dig into the vascular nature of COVID with than today's guest on The Doctor's Farmacy, Dr. William Li. Dr. William Li is an internationally renowned physician, scientist and author of one of my favorite books, the New York Times bestseller Eat to Beat Disease: The New Science of How Your Body Can Heal Itself. His groundbreaking work has led to the development of more than 30 new medical treatments and impacted care for more than 70 diseases including cancer, diabetes, blindness, heart disease and obesity. His TED Talk, "Can We Eat to Starve Cancer?" has garnered more than 11 million views. Dr. Li has appeared on Good Morning America, CNN, CNBC, Live with Kelly & Ryan and the Dr. Oz Show, and he has been featured in USA Today, Time Magazine, The Atlantic, Parade and O Magazine. He is president and medical director of the Angiogenesis Foundation and is leading research into COVID-19.
This episode is brought to you by Athletic Greens, BiOptimizers, and TrueDark.
Athletic Greens is offering Doctor's Farmacy listeners a full year supply of their Vitamin D3/K2 Liquid Formula free with your first purchase, plus 5 free travel packs. Just go to athleticgreens.com/hyman to take advantage of this great offer.
Right now, BiOptimizers is offering Doctor's Farmacy listeners 10% off your Magnesium Breakthrough order. Just go to magbreakthrough.com/hyman and use code HYMAN10 to receive this amazing offer.   TrueDark Daylights help prevent eye strain and headaches from overexposure to junk light and TrueDark Twilights collection for nighttime helps you get deeper sleep. TrueDark is offering podcast listeners 15% with code DRHYMAN15. Just go to truedark.com/hyman.
Here are more of the details from our interview: 
Dr. Li's journey studying long-COVID thus far (8:44)
What is long-COVID doing to the body? Do long-haulers still have COVID-19? (15:13)
Assessing and healing vascular damage from COVID and long-COVID (20:09)
How COVID infection can change the genetics of our bone marrow (23:45)
Preventing and healing from long-COVID (24:51)
Treating COVID-19 and long-COVID with nitric oxide and with repurposed pharmaceuticals (30:45)
Why do COVID-19 vaccines improve symptoms in some long-haulers? (36:00)
Using Functional Medicine, regenerative medicine, therapies such as hyperbaric oxygen, and the body's own intelligence to treat long-COVID (38:20)
Dr. Li's perspective on the COVID-19 vaccines and why we saw complications with the Johnson & Johnson vaccine in some patients (52:39)
Can you get long-COVID if you become infected with COVID-19 after being vaccinated? (59:45)
Learn more about Dr. Li at https://drwilliamli.com/ and follow him on Facebook @drwilliamli and on Instagram @drwilliamli. See acast.com/privacy for privacy and opt-out information.