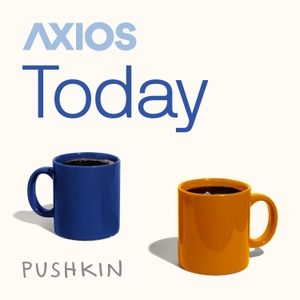 Looking to new vaccines for a way out of COVID
09.08.2021 - By Axios Today
Here in the U.S., the COVID vaccine conversation has mostly been focused on Pfizer, Moderna, and J&J. But with Delta's strong hold on much of the U.S., Axios' health care business reporter Bob Herman reports that we should be paying attention to other emerging vaccines.
Plus, Mexico moves to decriminalize abortion.
And, Latino voters' role in deciding the fate of California Governor Gavin Newsom.
Guests: Telemundo Noticias' Marina Franco, Axios' Bob Herman and Russell Contreras.
Credits: Axios Today is produced in partnership with Pushkin Industries. The team includes Niala Boodhoo, Sara Kehaulani Goo, Dan Bobkoff, Alexandra Botti, Nuria Marquez Martinez, Sabeena Singhani, and Alex Sugiura. Music is composed by Evan Viola. You can reach us at [email protected] You can text questions, comments and story ideas to Niala as a text or voice memo to 202-918-4893.
Learn more about your ad choices. Visit megaphone.fm/adchoices