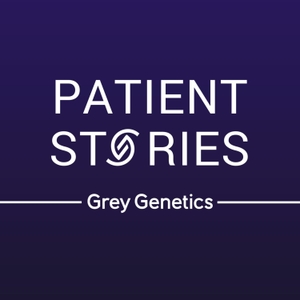 Chelsea London Lloyd is an actress and comedian living in L.A. She holds a BA in theatre from USC. Growing up, her dad had ALS and her mom had breast cancer. Her mother's breast cancer returned 17 years later at stage 4, which she has combated for the past three years. Chelsea interviews women with sick parents and features their stories on her blog, Daughters of Sick Parents. Next up is her podcast, DYING OF LAUGHTER, where she speaks with comedians who have a lost a parent. Email dyingoflaughter@gmail.com to be the first to know when it's released this fall!
Have thoughts or a related story you'd like to share? Leave us a short voice message here! We may use your message on a future show.
Links and Resources
Chelsea's website
Chelsea's blog: Daughters of Sick Parents
Follow Chelsea on Instagram: @_ChelsWhoElse_
Follow Daughters of Sick Parents on Instagram: @daughtersofsickparents
Check out other Patient Stories podcast episodes
Read other Patient Stories on the Grey Genetics Patient Stories Page
Do you want to support Patient Stories? You can now make a donation online!
Want to support Patient Stories in a non-monetary way? Leave us a review on iTunes, or share your favorite episodes on Social Media.
Patient Stories on Twitter: @GreyGeneticsPod
Patient Stories on Instagram: @patientstoriespodcast
Are you looking for genetic counseling? Patient Stories is sponsored by Grey Genetics, an independent telehealth genetic counseling and consulting company. Book an appointment with a genetic counselor specialized in your area of concern. All genetic counseling appointments take place over secure, HIPAA-compliant video-conferencing or by phone.
Not quite ready for genetic counseling but still looking for guidance? Check out our new family history review services here.