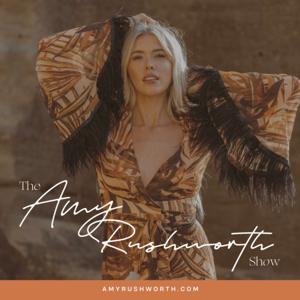 77 - Love, Romance And Dating In 2021 + Why Inner Healing Must Precede Manifestation with Persia Lawson
07.07.2021 - By The Amy Rushworth Show
Persia Lawson is an author, speaker and a trained cognitive behavioural therapist. Persia has supported thousands of women to radically transform their love lives from the inside out, via her online programmes and coaching practices. She also co-founded the pioneering positive lifestyle movement Addictive Daughter, and is the co-author of The Inner Fix (Hodder & Stoughton, 2016). 
As a trained wedding celebrant, Persia loves nothing more than to officiate the weddings of her beloved clients. She is a goddess and guru for love and this episode is so potent and so relevant to right now, to love in 2021. Highlights include...
❤️ Persia's magic blueprint for finding love - Heal, Attract, Commit - and the gifts and challenges of each of those phases. 
❤️ Manifesting a soulmate - how do we do that?
❤️ Dating + finding love beyond 30s - discussing the emotional struggles + the possibilities.
❤️ Why we cannot skip the "Heal" section otherwise our unconscious, love avoidant behaviours could sabotage a great relationship with a potential soul mate.
❤️ How understanding what a healthy relationship is, connecting with our feminine energy and realising the road to love is messy and complex, is key to finding what we say we want.
❤️ Why successful women may struggle with vulnerability and do not always honour the same boundaries + self-respect in relationships as they would in their careers. 
❤️ The generational shifts in relationships + how money beliefs/attitudes matter.
Connect with Amy...
UNAPOLOGETIC (new 2022 biz immersion) >>> https://amyrushworth.com/unapologetic
Insta - @thisisamyrushworth
Website - amyrushworth.com
FREE ABUNDANCE BUNDLE - https://amy-rushworth.mykajabi.com/the-abundance-bundle
Join Amy's OA Membership - https://amyrushworth.com/orgasmic-ascension
Connect with Persia...
Persia's new book: loveiscomingbook.com is out TODAY!
Instagram - @persialawson
Website - www.persialawson.com
----
Major thanks to our sponsor, The Happiness Planner!
For 20% OFF the app: Use code AMYRUSHWORTH
For 10% OFF journals: Use code AMYCONFIDENCE