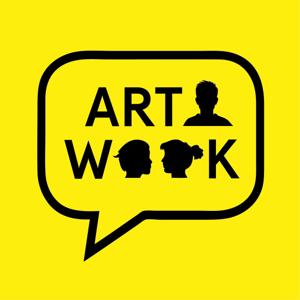 Episode 107 - Malcolm Greenwood, Master potter
05.10.2022 - By Art Wank
We spoke to Malcolm Greenwood at his studio in Mosman. What a lovely man. He showed us around his amazing studio full of pots, bowls, and plates, some of 400 makes a week for Australia's top restaurants and hotels such as Bennelong and the Baillie Lodges Group. He started out in business management and then a realisation that his health was suffering from the stress he started his journey in ceramics. We talked to him about the perception of ceramics in Australia, how he makes his ceramics, mentorship, and much more. it was a great chat and we were so happy to meet Malcolm and learn about his successful career and how he gives back by teaching master classes.

'Malcolm Greenwood began working with clay while studying for a degree in Business Administration at the University of Massachusetts, Amherst, Massachusetts, U.S.A., in 1976. After moving to Boston, he began studying various Japanese pottery techniques with visiting Japanese potter, Makoto Yabe, including throwing, 'neriage', glaze formulation, and firing techniques.
While living in Nigeria (1978 to 1979) Malcolm built a wood-fired kiln, producing pots using local materials. In addition he traveled throughout much of West Africa, studying the traditional pottery techniques and various collections of antique and contemporary pottery. The form and texture of many of the African pots have had an influence on the development of his work.
On returning to the U.S.A. in 1979, he again worked with Makoto Yabe. During this period Yabe's most significant influence on his professional development as a potter, was with regards to the philosophy of making and firing pots.
Malcolm returned to Australia in 1980, working in clay on a part-time basis until 1989, when he left the corporate world, finally, to begin a career as a full-time as a potter.'
malcolmgreenwood.com