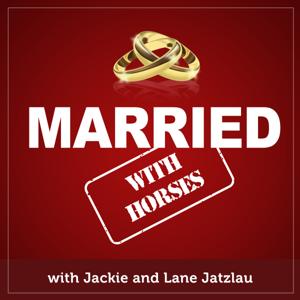 Married With Horses
By Jackie and Lane Jatzlau
What's Married With Horses about?
Welcome to Married With Horses!
This is a podcast hosted by Jackie and Lane Jatzlau. Jackie (formally Jackie Dube) is a professional barrel racer and horse trainer. Her husband, Lane, owns a construction company and is a professional barrel racer's husband. Together they raise 2 kids, 6 dogs, and herd of horses on their ranch in Central Texas. This podcast is meant to be both entertaining and informative. Jackie and Lane will discuss their day to day happenings and all that goes on in their rarely-noneventful lives. Jackie gives horse tips and discusses barrel racing. Lane pretends he knows what she's talking about. So if that's your thing, you'll have a lot to hear here.