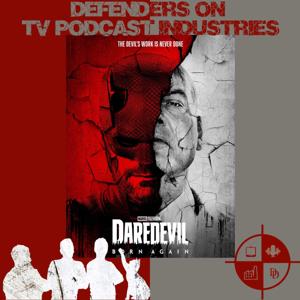 We're back with an action packed look at Hawkeye Episode 3 "Echoes". We're discussing the episode in full spoiler filled detail and chatting about every single trick arrow deployed in our latest podcast.
Hawkeye Episode 3 "echoes" Synopsis
Head Writer: Jonathan Igla
Episode Written by: Katrina Mathewson and Tanner Bean
Episode Directed By: Bert & Bertie
Staff Writer: Heather Quinn
Executive Story Editors: Katrina Mathewson and Tanner Bean
In 2007 young Maya Lopez is learning to live in a world without hearing. Growing up she is supported by her father as he encourages her to jump between the two worlds of the hearing and the signing. But one evening Maya witnesses the slaying of her father at the hands and sword of the Ronin.
In the present day, Maya stands over Clint Barton and Kate Bishop to interrogate them about Ronin, as she seek revenge for her murdered father. Clint manages to free himself and fend off Maya and the Tracksuit Mafia, though Maya breaks his hearing aid in the process. Freeing Kate Bishop they escape the warehouse, but are pursued in their stolen saloon car by Maya, her second in command Kazi and the rest of the Tracksuit Mafia. With the help of many trick arrows they manage to escape their pursuers and get back to their safehouse.
Clint gets his hearing aid fixed, they manage to walk the dog, now christened Pizza Dog, and both look to learn more about the Tracksuit Mafia as well as her soon to be step-father Jack Duquesne. Kate brings Clint back to her mother's penthouse, where she attempts to access the criminal database of her mother's company - Bishop Securities. However, Kate is locked out of the system as she attempts to bypass the encryption., while Clint hears a noise elsewhere in the apartment. As he goes to investigate he encounters the sharp end of Jack Duquesne, as he holds the Ronin sword to Clint's throat.
Hawkeye Episode 2 Cast
* Jeremy Renner - Clint Barton / Hawkeye* Hailee Steinfeld - Kate Bishop* Tony Dalton - Jack Duquesne* <...