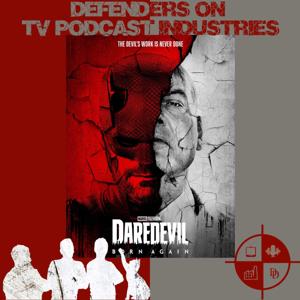 Put up the tree and settle down to get through the holidays with Hawkeye Episode 1 "Never Meet Your Heroes". We'll be discussing each episode in full spoiler filled detail.
Hawkeye Episode 1 "Never Meet Your Heroes" Synopsis
Head Writer: Jonathan Igla
Episode Written by: Jonathan Igla
Episode Directed By: Rhys Thomas
Staff Writer: Heather Quinn
Executive Story Editors: Katrina Mathewson and Tanner Bean
It's 2012 and as the battle of New York rages between the Avengers and the Chitauri, a young Kate Bishop witnesses Hawkeye battling his foes and aspires to become a hero like him after he unknowingly saves her life.
In the present day, Clint Barton is spending some quality time with his children in the lead up to Christmas in New York, with musicals, meals and movie marathons. Meanwhile Kate Bishop, back from her destructive semester at college, attends a charity auction gala with her mother Eleanor and is surprised to learn that her mother is engaged to Jack Duquesne.
After witnessing an argument between her mother and Jack's uncle, Armand III, Kate follows him into the basement of the building where she stumbles onto a black market auction where Armand and Jack are bidding on items recovered from the remains of the Avengers Compound.
The auction is interrupted by the Tracksuit Mafia, a Russian street gang who attempts to recover a watch among the items. Kate manages to hide her identity using one of the auction items, Clint Barton's Ronin suit, and defeats the Tracksuit Mafia. She escapes to her apartment after rescuing a stray one-eyed dog, but heads back out to learn more about Armand III. When she breaks into and enters his home she discovers that Armand has been murdered.
While running away from the crime scene, she is cornered by the Tracksuit Mafia members but is rescued by Clint who is curious to know who is wearing his Ronin suit and why it's been heavily featured on the evening news.
Hawkeye Episode 1 Cast
* Jeremy Renner - Clint Barton / Hawkeye* Hailee Steinfeld - Kate Bishop* Tony Dalton - Jack Duquesne* <a href="https://www.imdb.