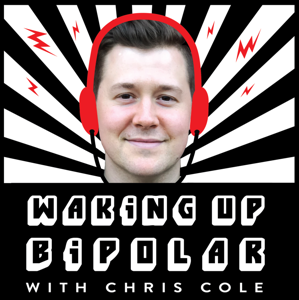 In this episode of the Waking Up Bipolar podcast, Chris Cole speaks with Marya Hornbacher—award-winning essayist, journalist, and The New York Times bestselling author of five books covering memoir, fiction, and self-help.
Marya Hornbacher's work has been published in eighteen languages, and her writing across genres appears regularly in literary and journalistic publications around the world, most recently in AGNI, Gulf Coast, The Normal School, Fourth Genre, DIAGRAM, Broad Street, and The Bellingham Review. Her sixth book, a work of long-form journalism, will be published in 2018, and her seventh, a collection of essays, is underway. She was recently honored with the Annie Dillard Award in Creative Nonfiction. Find out more about her work at www.maryahornbacher.com.
As you'll hear in the interview, Marya is a brilliant mind and radical advocate that challenges the status quo both in our heads and in society at large. I have been inspired by her work for years, and I'm certain that you will be moved here in our discussion. 
Keep up with Marya Hornbacher by visiting maryahornbacher.com, and friend her on Facebook and follow her on Twitter.
JOIN THE DISCUSSION at https://www.facebook.com/groups/wakingupbipolar
Chris Cole hosts the Waking Up Bipolar podcast, focused on the intersection of bipolar disorder and spiritual awakening. He is the author of The Body of Chris: A Memoir of Obsession, Addiction, and Madness, inspired by his own journey of spiritual unfolding and mental health challenges. Chris Cole offers life coaching for any number of mental health conditions, specializing in bipolar disorder and spiritual emergence. Chris's experience with addiction, disordered eating, body dysmorphia, psychosis, and spiritual emergency allows him to relate to a wide range of clients. He utilizes a holistic approach to mental health which views wellness in physical, mental, emotional, social, and spiritual domains. Learn more about Chris and his work at colecoaching.com.
The Waking Up Bipolar podcast in now available on the following platforms:
Apple Podcasts | apple.wakingupbipolar.com
Google Play | google.wakingupbipolar.com
Stitcher | stitcher.wakingupbipolar.com
TuneIn | tunein.wakingupbipolar.com
wakingupbipolar.com