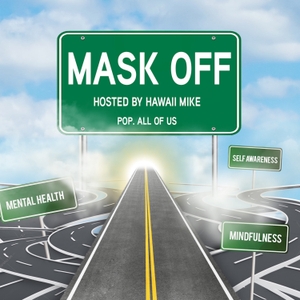 This episodes guest is a major inspiration for me having the courage to do this podcast. His positive words, vibes, and motivation through action are infectious. He is a master at his craft, which is living life to the fullest, and getting paid for it. He's traveled the world doing what he loves by being nothing more than his best self, and if he could, he would teach the world to do the same by following their passions. We got to kick it on his last trip to NY and he shared his story, check out how Kenny Burns became the Lifestyle Specialist... 
Follow us: @maskoffpod
Hosted by: @hwmk 
Kenny Burns Website: Studio 43
IG: @kennyburns Twitter: @kennyburns
INTRIGUING. INFLUENCER. OUTSTANDING. EXCEPTIONAL. CRUCIAL. THE DREAM IS REAL.
These words only scratch the surface of who Kenny Burns is. The list of outstanding accomplishments goes on and on, including work across various fields such as music, fashion, lifestyle marketing, television and radio. Kenny Burns always knew he was destined for great things. He enrolled at Morris Brown College in Atlanta one year after graduating high school. 
Rightfully dubbed "The Lifestyle Specialist," Kenny Burns is the modern day Robin Leach. His influence can be felt across the Entertainment Industry and his ability to inspire and influence change is undeniable. Rising to every occasion and surpassing all goals and expectations has been his objective since the start of his career, and through his hard work and dedication, Kenny Burns has proved that what you dream you can achieve!
90's: 2620 Music, known for introducing some of the biggest acts in hiphop history to the Atlanta market in the mid 90's. This included superstars such as the late Notorious B.I.G. and the living hip-hop legend, Jay Z. Promoted R&B; singer Monica's debut album Miss Thang and Jay Z's highly acclaimed Reasonable Doubt. Orchestrated the double platinum girl group, Dream. Instrumental in helping them secure one of the highest debuts for a girl group, coming in at #2 on the Billboard charts, second only to the Spice Girls. Served as Vice President at Mariah Carey's Monarch Music and at Roc-A-Fella Records.
00's: Launched Ryan Kenny, the 2nd African American designed and owned apparel line sold in Saks Fifth Avenue. Gained exposure to the masses when pieces from the line appeared in Jay Z's music video for "Change Clothes." Worked with global brands such as AXE, Heineken, and Belvedere/MH USA. Launched The Kenny Burns Show (TKBS) + morning show fill in at #1 Urban radio station in the country - Atlanta's V-103. The mic brought him to back hosting high profile events for AG Entertainment. 
10's: Greg Goose taps him, his roles ranged from National Brand Ambassador, to talent procurement and event execution, to launching and starring in a nationally televised campaign for Grey Goose Cherry Noir featuring DJ A-Trak, Neon Hitch and others. Creation of his documentary, B.U.R.N.S (Be Ultimately Realistic and Never Sellout).  Kenny had the honor of premiering B.U.R.N.S at the American Black Film Festival (ABFF) in Miami. In October of 2013, Kenny released his first book entitled, The Dream Is Real. This is considered his most thoughtful project to date. The book goes beyond B.U.R.N.S and details his life story and his belief that success is defined solely by you and your body of work. Kenny joined Combs Enterprises, the entrepreneurial arm for entertainment mogul, Sean Combs. Serving as Senior Vice President of Brand Development, Kenny worked with CÎROC Vodka, Bad Boy, REVOLT TV, AquaHydrate and DeLeón Tequila.