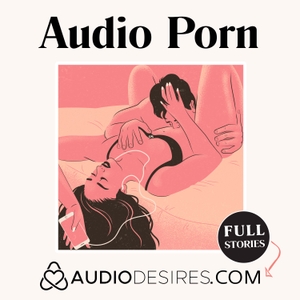 Listen to the entire story here: https://audiodesires.com/story/sex-massage
In this audio porn story, you book a massage in a luxurious hotel. The sexy massage quickly turns into a sexual adventure. Feminist, respectful audio porn sex story for women and couples.
This weekend you chose to get away from everything. You found the perfect retreat to relax, a sanctuary to unwind, a place to escape from the busy humdrum of daily life. You booked a deluxe room in one of the world's most exclusive hotels surrounded by the natural beauty of the Swiss Alps. The resort is known for its spa and sauna area. You have booked an appointment for a classic massage and a woman leads you to the right room. The room is bathed in warm light and quiet music plays in the background. In a changing room you can undress, take off your clothes and lie prone on the massage table. The lady covers your hips with a small white towel and leaves you alone. Then I enter the room. You look up at me and I give you a smile. I give you a quick rundown on how the massage will be conducted. I try to make a professional impression, but I find it hard to concentrate. You are a pure seduction as you lie there on the table. The small towel is the only thing that covers your beautiful body. How am I supposed to concentrate on my job if all I can think of is pulling that piece of fabric off of your body. My voice gets all raw and betrays my thoughts as I speak to you: "Is the room temperature comfortable? - Very well, now just relax. Tell me if anything is uncomfortable." You put your head down and close your eyes. I seize the opportunity to glance at your captivating body, from your pretty face to your waist and your beautiful legs - where I will start the massage. I cover both hands with oil and glide over your skin. From your ankles I slowly work my way up, over your calves, the hollow of your knees, massage your thighs, my fingers loosen every muscle and you relax. I switch to the other leg and start at the ankle again. My hands press gentle circles into your calf muscles. Again over the hollow of your knee, to your thighs. Your skin is soft, and my oily hands circle over it effortlessly. My fingers work their way up to where the towel covers you. The urge to push the fabric a little further up is strong. I want to see your perfect ass. Massage it. Spread you out for me and look at your pussy. Play with you. Get you so wet until you're begging me to take you and fuck you. I use more oil to rub your back. My thumbs gently press on your coccyx and slowly move up. Along your spine and across your waist, across your chest, to your shoulders. My hands loosen the knots in your muscles and your body relaxes. You sigh softly and my cock reacts immediately to your voice. The blood rushes to my loins and I get hard. I keep massaging your shoulders. When you sigh again, my heart beats hard against my chest. My erection is already clearly visible under the loose trousers. If you opened your eyes, you could see it. But your eyes are still closed. You endulge in my every touch. I am concentrating on your legs again. I'm using more oil than necessary as I massage them. The liquid is warm and runs down your skin. My fingers glide over your body without resistance and your skin becomes hot under my touch. I caress your thighs. Gently at first, then harder as I move further up. My fingers caress the inside of your legs. Working their way forward. Exploring further, between your legs. Closer and closer. *slight moaning sound* I breathe loudly, my hands stroking along the skirt of the towel. You turn your head, our eyes meet. You smile at me and give me a small nod.