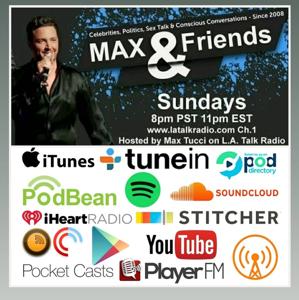 MAX & Friends
By maxtucci
What's MAX & Friends about?
MAX & Friends with Max Tucci is an Award-Winning Podcast, Celebrating 14 Years On-Air... Max says what he wants he ain't holding back. He's got the recipes for life and he's inspiring, he's not scared of any topic from sex dial to gossip, Listen in, to hear what Max is dishing... over 1000 interviews hundreds of on-air hours.. A Telly, A Davey, and 5 Communicator Awards later Max, still takes MAX & Friends.. 2TheMax follow Max on IG & Twitter @maxtucci

Over the 14 years, Max has interviewed notables from Jackie Collins to Lisa Lampanelli. Cast Members from Bravo Housewives to CSI:Miami to Orange Is The New Black. Max has had Conscious Conversations with Oprah SuperSoul100 Gordana Biernat, Panache Desai, Valeria Love, MA Jaya, Sister Jenna and so many more. Max & Friends strives to deliver excellence with each show that he airs. Tune in and join the conversation.
Winner of the 2022 Communicator Awards
-Outstanding Host for a Podcast
-Outstanding Podcast: Music Episode
-Outstanding Podcast: Spiritual Episode