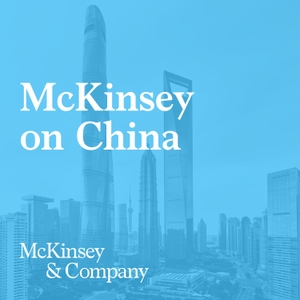 McKinsey Greater China
By McKinsey Greater China
What's McKinsey Greater China about?
Welcome to the McKinsey on China podcast. In this podcast, consultants from McKinsey's Greater China Practice delve into the issues and trends shaping business and the economy in this dynamic region. Since we launched the podcast in December 2011, we've published over 45 episodes on topics covering the full gamut of critical issues in China, including urbanization, globalization of Chinese companies, energy, consumers, electric vehicles, macroeconomic policy and reform, and more.
Your hosts are Nick Leung and Glenn Leibowitz. Nick is the Managing Partner of McKinsey's Greater China Practice. Glenn heads up McKinsey's external relations and publishing group in Greater China.
Subscribe to the podcast for free on iTunes and listen to it while you're on the road (or airborne). We'd appreciate if you could write a short review and rate it too. You can also listen to it right here on this website.
Suggestions for future topics? Feedback? We'd like to hear from you.